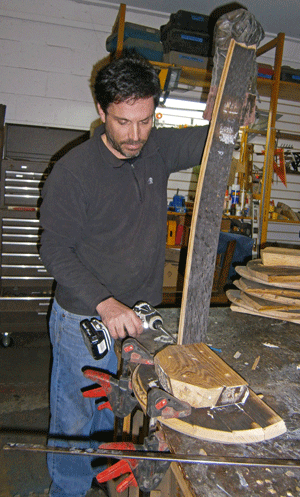 Jason Cohen taps larger market after Garden & Gun mag features his bourbon barrel furniture
Jason Cohen didn't set out to get into the niche market of stools made from bourbon barrels.
In fact, before he was cited as a "Best in the South" craftsman in 2011 by Garden & Gun magazine for the unusual – but as Cohen stresses, very comfortable – stools, Cohen did a lot of work on commission and furniture repair.
But once the article about his Jason Cohen Wood Artisan shop was published, the orders started coming in.
"Lots of people were calling me and buying my product," said Cohen, whose workshop and showroom is in the Butchertown neighborhood. "If that's a small part of the market I can tap into, how can I tap into a larger market?"
Now, Cohen focuses largely on the bourbon barrel furniture, which he says have incredible therapeutic, as well as aesthetic, benefits. The stools improve posture by the design of the furniture, specifically the angle at which people tend to sit in them, Cohen said.
Source: http://insiderlouisville.com/news/2013/03/07/bourbon-barrel-furniture/
by Stacy Lipson